Should B2B marketers be using Threads (instead of X) when targeting a niche?
It has been an eventful couple of months for the social media marketplace. We saw Meta launching Threads to rival Twitter (or should we say X?) and how it went on to have more than 100 million sign-ups in a matter of days, shortly followed by Twitter changing its name to X – even dropping the widely popular Bird logo. More recently, we observed a mass exodus of users (and brands, too) from Threads, with around 79% drop in active users of the platform. We understand it is a lot of action in a very short span of time, so we decided to take a closer look at this shiny new platform to better understand what it means for B2B marketers and whether it is a viable option for B2B advertisers.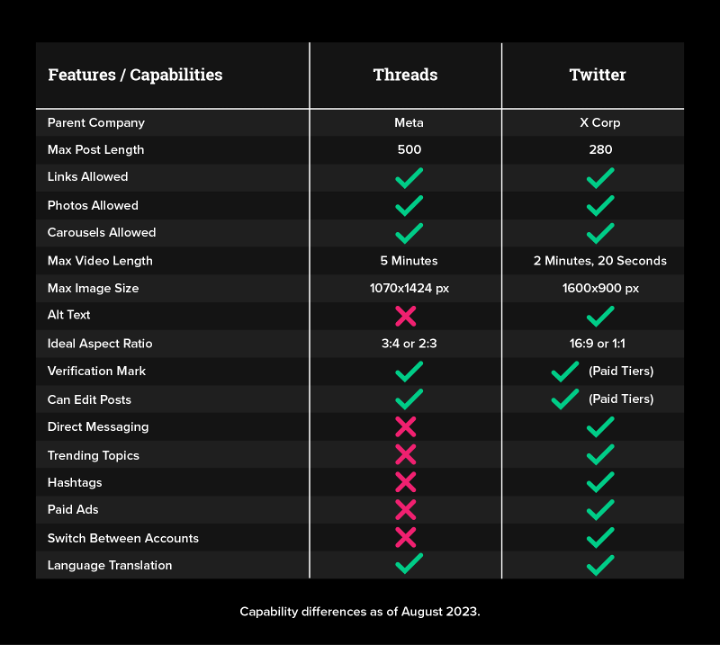 Additional way to reach your audience
Threads' launch reinforces that creating an Instagram profile is worth considering if your B2B brand isn't already on the platform. To get started with Threads, you need an existing Instagram profile. But being ready for Threads doesn't mean it's the best choice for your B2B brand. We suggest it is best to see if your audience is there and if you have the resources to create quality, engaging content for them. Many brands have been very active on Threads from day one because their audience was already there (thanks to the swift onboarding process), and that's half the battle.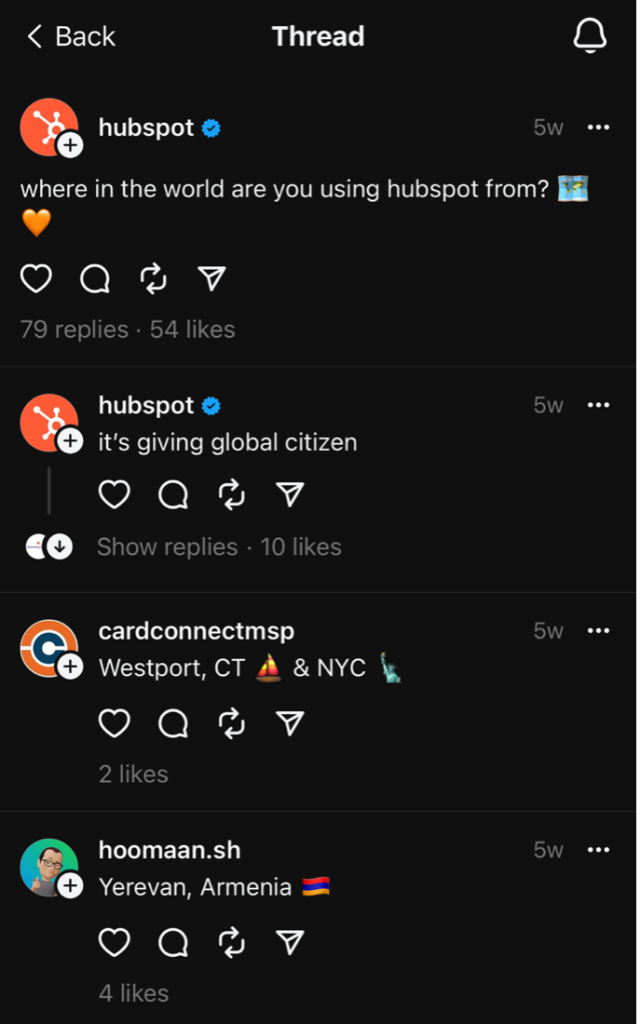 (Source: Hubspot's account on Threads)
Potential micro-blogging platform
With a higher permitted character count on Threads than X (500 rather than 280), there are opportunities for brands to use it for "micro-blogging". In fact, Threads emulates one of the best performing features from X —lining up multiple Tweets back-to-back in order to communicate detailed informational content or to tell a story.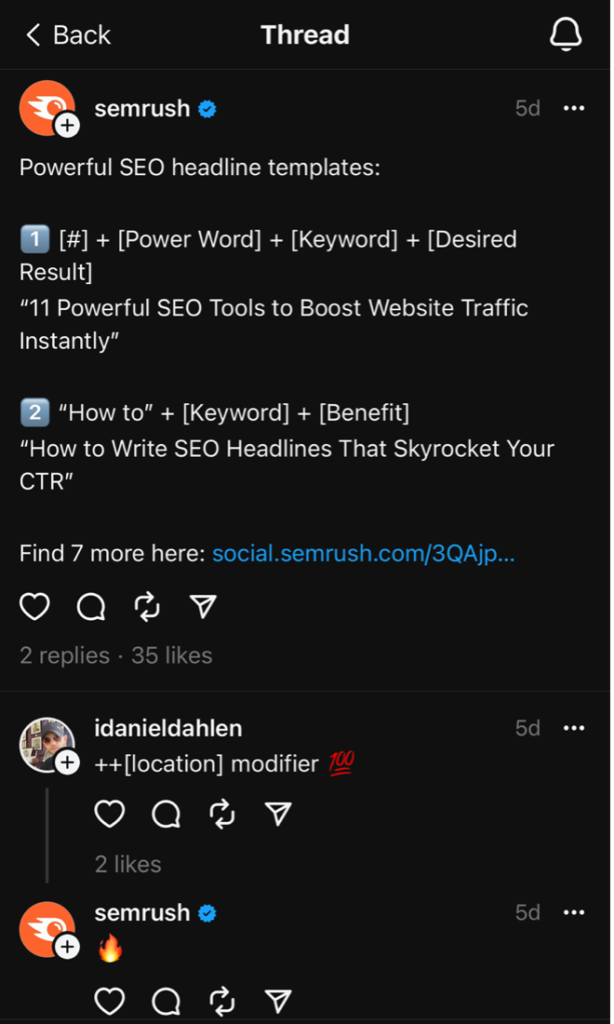 (Source: SEMrush's account on Threads)
'Reliable' alternative to X
Following all the upheavals at X since Elon Musk's takeover, we have observed a sharp decline in the platform's relevance to marketers. What advertisers want most in an advertising platform is stability and X does not offer that currently. This is evident from the fact that 61 of the platform's 100 biggest advertisers reduced their spending by at least 80%; 37 of them appear to have spent nothing – according to the data from market intelligence firm Sensor Tower. There is clearly a gap in the market currently which has seen even TikTok launching a text-based posts feature.
Testbed for content ideas
B2B marketers can post a short-form idea to assess if it has legs or ask a question to the audience as a quick form of market research. Replies to the Threads would indicate if it could be developed into a longer-form piece of content and potentially included as part of a paid media campaign on other platforms. Currently, there are no PPC capabilities within Threads – but we're sure that won't be the case for long.
Some of the major B2B brands who have been actively testing out the capabilities of the Threads platform include Hootsuite, Adobe, Semrush, Ogilvy, Gartner, McKinsey & Co., HubSpot, Salesforce, Slack, and Microsoft.
User retention issues
This is the big one. After a red-hot start, Threads appears to be fizzling just as quickly as it took off.
Some of this can be attributed to people only downloading it to see what the hype was about. Also, there is some extent of expectations mismatch since users who have come to the platform from Instagram are used to communicating through visuals, while users from X are stuck with a platform that lacks the basic functionalities they are used to – like the lack of hashtags, or the search functionalities.
Unavailable in the EU
Threads is not available in the European Union as it is currently not in line with the EU's Digital Markets Act. That lack of presence could be a big obstacle for global brands. And it is obviously a major problem for companies focused on the European market.
Not having a strong 'identity'
There is also an issue with the platform's identity as people can't put their finger on what they should use it for or where it fits in within the current social media ecosystem. It's not X, but it's a bit like X. And it's not Instagram, but it's tied into Instagram. It has got a mixture of audiences – those who have moved themselves across from X along with people from their Instagram following which makes the audience on Threads a bit of a muddle.
Eating its own audience
Experts see the platform impacting some of Instagram's engagement as much as X's. This is something we have witnessed earlier with the rise of Instagram and how that resulted in people moving away from Facebook as their go-to social media channel.
Of course, we are still in very early phases and a lot is bound to change. In fact, Meta is moving swiftly to address the user drop off with Threads launching a web version people can use on desktop with a proper search functionality to be expected in the next few weeks at the time of writing.
At present, we recommend the 'wait and see' approach to our B2B clients targeting a niche. There are a lot more challenges that Meta needs to fix than basic user experience that people already expect, to make this platform worthwhile for B2B advertiser's marketing dollars.
When Threads first launched, we posted a poll asking about initial thoughts. The results were an even split of 41% thinking it could co-exist with Twitter and 41% said it wouldn't live up to the hype. Meanwhile, 19% boldly said it might replace Twitter (which isn't a thing anymore as such, so partly right!).
What are your thoughts on Threads now? Are they different to when it first launched? Let us know over on LinkedIn.