Brand marketing is back! What B2B marketers need to know…
As an agency and trusted partner for clients, it's important we stay up to date with the latest thinking and influences on B2B marketing.
Continuing a series of short posts looking at the some of the important trends that are going to impact strategy and implementation this year, this post looks at brand for B2B.
What does the future for branding look like?
Our audience can be typified by being a tech savvy, marketing literate business professional operating in complex markets and products.
And that's why comments from Penry Price, VP Marketing Solutions at Linkedin make sense to us and our clients.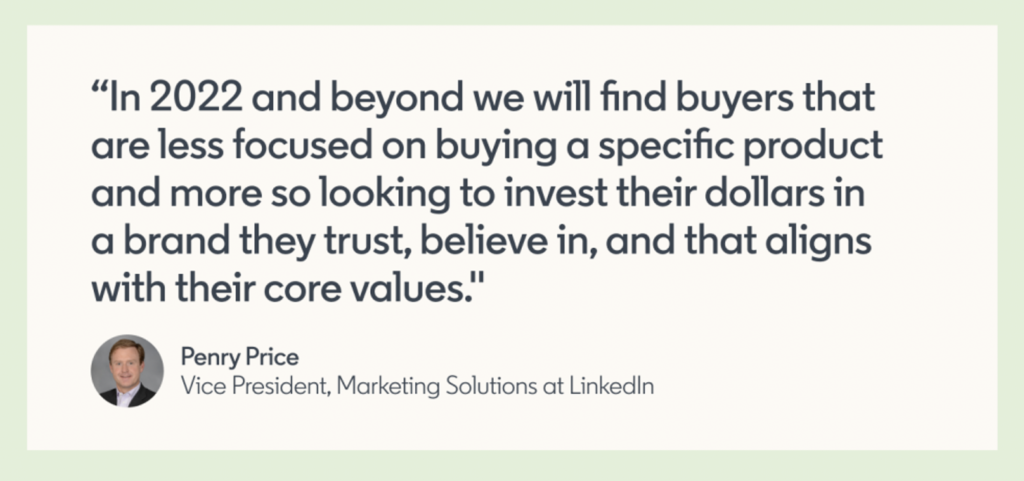 What this says to us is that organisational and individual reputation matter more than ever. 
There is a huge rise in values-driven businesses and individuals, who are building huge followings and impressive business results by being transparent on what they exist to achieve and how they go about doing it. This can start at a simple level with sustainable sourcing and processes to charitable interests and develop all the way through to B Corp certification.
How B2B Brands Grow 
The B2B Brand Institute's "How B2B Brands Grow" written by Jenni Romaniuk et al impresses on us the need as marketers to make our customers think of us as often as possible.
Here the authors see a transition from brand-centric framing of marketing communications and messages towards more overt customer-centric framing.
Scores of organisations say they are customer-centric, but in reality aren't. They are wrapping a customer-facing narrative around an existing set of products and services that they wish to sell, rather than truly framing their operations around customer needs.
If you look at the table below, you'll see some subtle but significant changes. These mark out the great organisations from the good.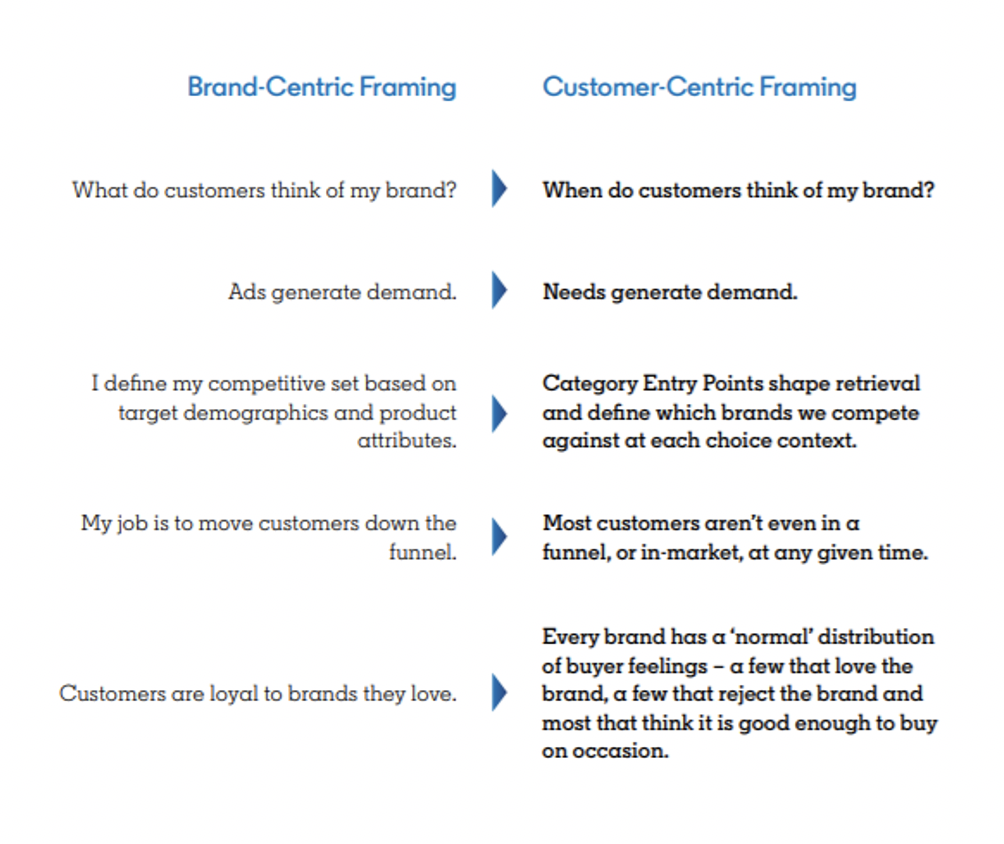 But fundamentally, they expose some traditional marketing thinking that is perhaps incompatible with the modern world of "always on" two-way communication. Would-be customers can not be easily categorised into one part of the funnel because of any action they take. Everything is too fluid for that. 
Any brand, and all brands competing for attention, are swimming around in the brain. Within that head space, there are multiple influencing drivers pulling them to the front and sending them to the back. 
This assessment of active psychology demonstrates that there are many more variables impacting how customers react to brand messages rather than simply their role, or responsibilities.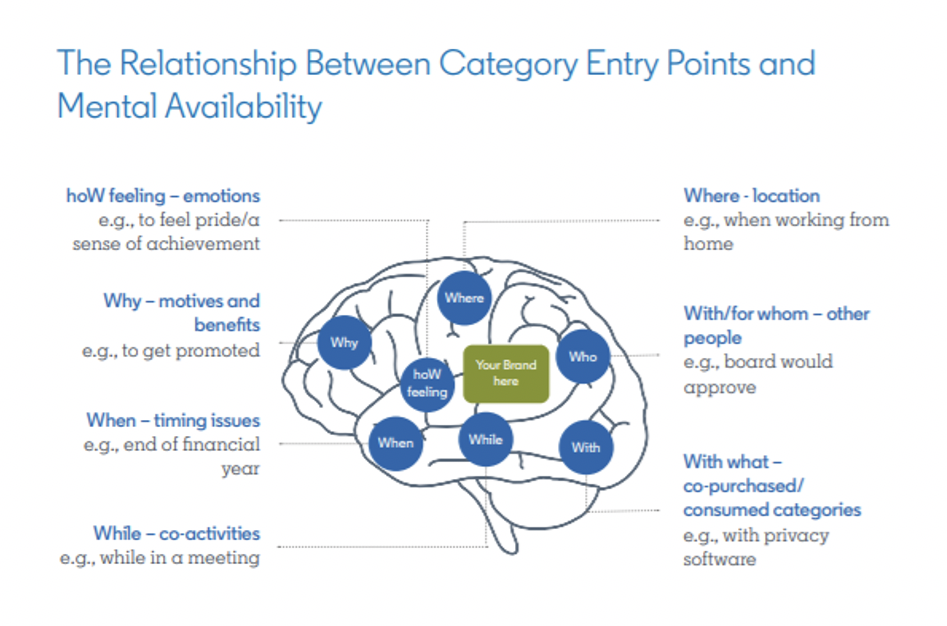 The importance of brand building 
Most TV advertising since the 1950's has been focused on brand building, fostering a strong connection between branded products and their target users. In B2B, the focus has been on showcasing product features and benefits in print media.
TV advertising has over time become much more direct and digital in nature, nudging viewers to taking an action – from searching for "keyword", visiting a website or social media profile – whilst watching the ad. 
In the last two years particularly, the pandemic has accelerated digital adoption, spend has moved away from traditional media, big tech is growing and creative styles has changed. 
Digital acceleration will make brand building, especially advertising, more important. But this has historically been something B2B companies struggle with because most marketing effort leans towards revenue generating acquisition and sales.
In ever-more digital environments, brands lose some of their physical brand assets. But as that focus on leveraging "mental availability" remains, B2B brands seek to create connection and engagement by providing information, being useful and occasionally entertaining.
How to gain attention from a psychological perspective
Drawing on work by psychiatrist and neuroscience researcher Iain McGilchrist, we've seen the rise in acknowledgement of "broad-beam" and "narrow-beam" attention.
The right side of the brain represents "broad-beam", alert to what is out there. It then passes anything of interest to the left side, so it can focus ("narrow-beam").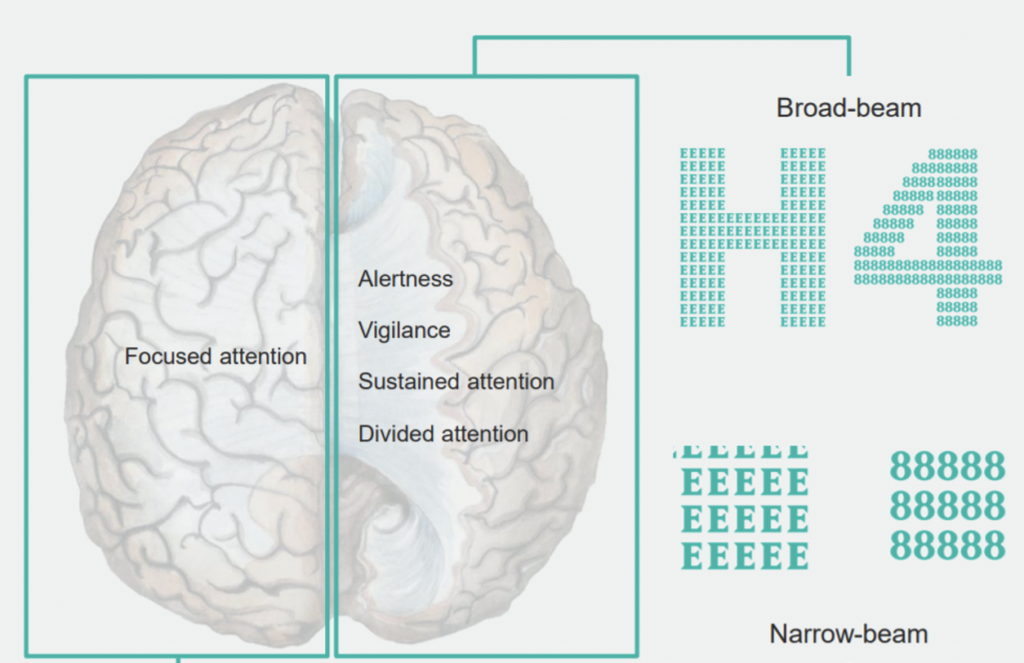 Understanding broad-beam attention is essential for creating brand building activities.
Research shows that advertising and promotion with features associated with the right side of the brain (yellow) is more effective at capturing attention.
Marketing material that leads on features associated with the narrow beam, left brain elements (purple) – things like close up product shots and details – can switch people off. 
Yet this is where most B2B marketers start, because they think customers need all the information.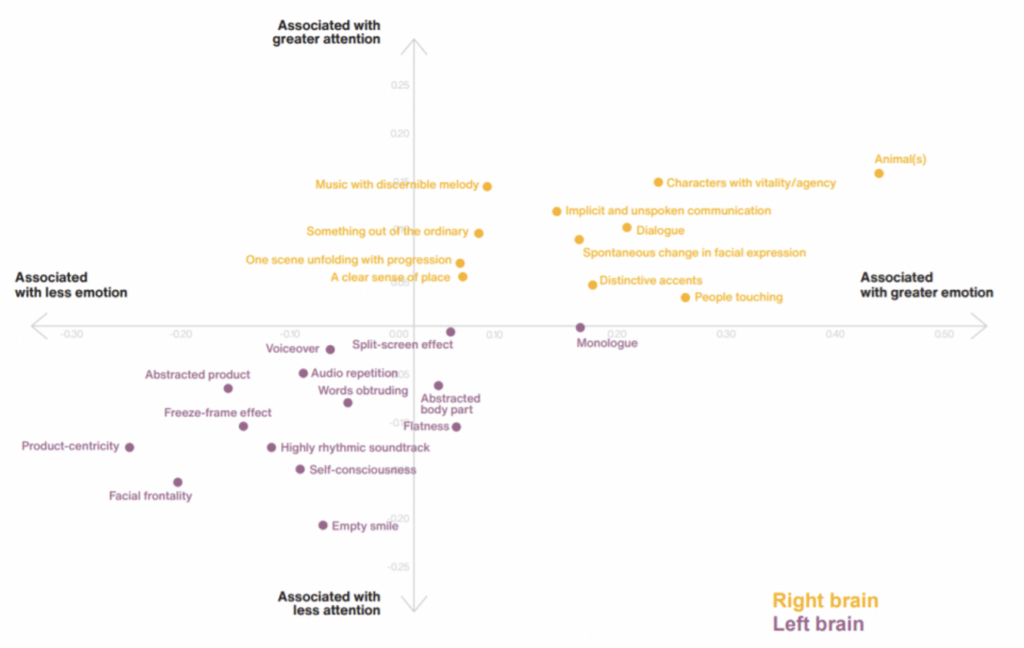 What does this mean for b2b marketers?
B2B marketers need to recognise that customers are fluid and don't stay in one part of the funnel. (Maybe the funnel needs replacing).

Truly customer-centric framing is the way to stand out.

Allocate more investment in brand building, in line with points 1 and 2. Start with a big idea.

Focus on right brain, emotional elements to create first impact.

Your stance on issues like sustainability, diversity and employee wellbeing is just as likely to lead to a sale as your features and benefits table.
Thinking about your brand is talking to customers? Interested in exploring different ways to communicate?
Start a no obligation conversation click here.
Recommended reading:
Privacy and the attention economy – What B2B marketers need to know