What can B2B Marketers learn from those using social media well? | B2B social media best practice
"90% of the B2B purchase process is completed before contacting a vendor"

Source: Google Zero Moment of Truth Study, Inside Sales, Forrester, Focuvision
And to that end, social media has emerged to be a critical part of the research, evaluation, and short listing process. People rely on word of mouth and influencing voices to help them make smart decisions on behalf of their business. But, what qualifies as a social media platform these days depends on the perspective of your audience.
There are many more options to consider over the traditional LinkedIn, Facebook, Twitter, and Instagram. And if the wide range of options isn't enough, every platform has its nuances which make using and getting the best possible reach from social media ever more challenging.
If you factor these considerations into your thinking, you'll start to see some tangible improvements in your social media effectiveness.
1. Think Strategy: Define the purpose of your effort.
You need to have done the work to determine what your content marketing strategy is before embarking on socialising your business. Setting a strategy means being crystal clear on what topics and angles you're going to take, what your tone is, and even what you're not going to touch.
Ensure you establish what you're trying to achieve and set meaningful goals so activity has value.
Emcor used a carousel post on LinkedIn to share their values, particularly in the area of workplace sustainability.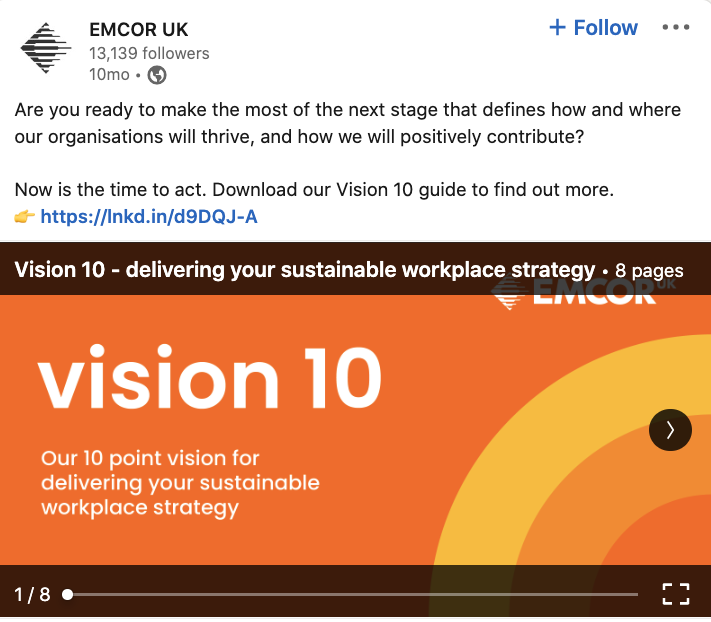 2. Channels: Create with the channel in mind.
For B2B social media marketing, the long-held argument is to focus on LinkedIn. It's where people go to talk about work and careers, and to share updates and insights. People build communities related to their role and responsibility and market sectors they serve and the search functionality takes some beating.
There are great opportunities to build both corporate brands and personal brands on the platform and a number of ways to share valuable information to target customers – posting from individual profiles and pages, publishing articles, running groups, issuing a newsletter to followers, and using the LinkedIn Live functionality (third party software required).
But, don't forget that you can duplicate your efforts into other platforms relatively easily once you've built a solid profile on LinkedIn.
Twitter is still a place to go to for immediate real-time updates (whereas LinkedIn has a slow roll-out algorithm) and remains the go-to platform for events, conferences, and exhibitions.
Twitter's technology has evolved to include Twitter Lists where you build segmented follower lists and Twitter Spaces where, in the Clubhouse style, live audio pop-up events can be staged or attended (you could involve your Twitter lists!)
Marketing professionals used to get hot under the collar about image sizes, file types, and the creative nuances of each platform. Now, it's more about using social media natively to build brand reputation, to engage, and to start conversations where they are actively looking for content.
And remember, its social media – so engage and share first, sell second.
Here, Hewlett Packard seeds news about their new supercomputer technology through Twitter. It got a good level of engagement because of the nature of the topic, the high impact image, the account tagging, and hashtag use.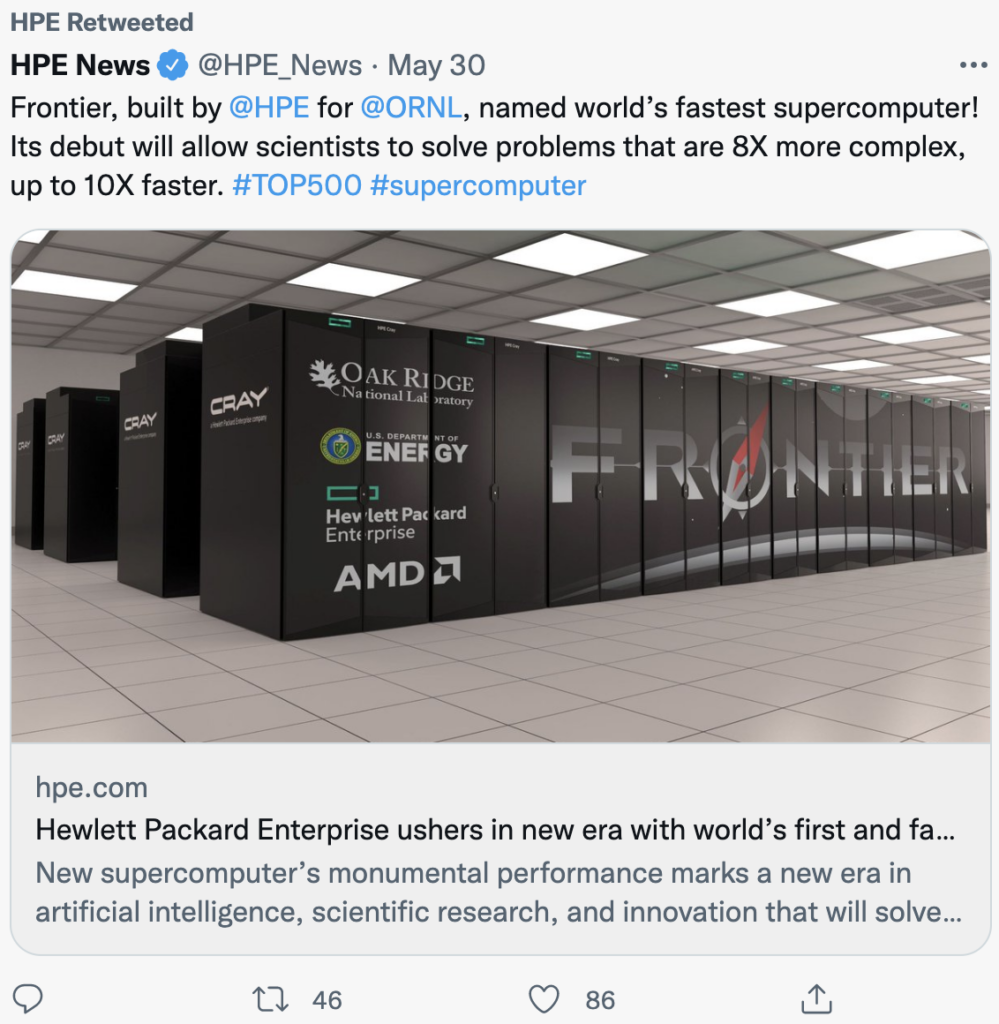 3. Think Design: Make it easy to engage with.
It's getting increasingly hard to get people to click links to websites. Think of your own social use. You watch and read content natively. You're scrolling within a social media feed and don't want to be taken away from it.
So, working with social media platforms to create easily accessible, engaging content is critical. And, as most social media use is on mobile devices with much smaller screens than tablets and laptops, design consideration needs to ensure content is easy to read.
For written content, leverage the stylistic options available. Make content quickly "skimmable" by using short sentences, allowing for lots of white space, using emojis and symbols (if your tone of voice allows), and asking questions.
For visual content (thinking graphics, carousels, animation, and video), you need a high-impact headline and hook, and you need to get to the point quickly. Interactive content can be effectively used to "tease" longer-form content but give enough value as a standalone piece before you reach your call to action.
Again, people won't click for more if they didn't derive value from the seed content stumbled upon on social media.
4. Think Content: Provide what they are looking for.
Breaking down all the different types of content is one for another day. But the examples contained within this post offer an insight into the creative breadth of ideas available.
Perhaps the best way to think about content is to think about what matters to customers. The easiest ways to do this include reviewing:
What the industry magazines and media websites are talking about.
The keynote topics at industry events.
Any influencing voices that may be producing podcasts to see what are they talking about.
A Google search on the above topics to see who in the industry is ranking organically on them.
If you've done the work on your strategy, you'll have an understanding of who you want to impact, the core content topics you can get involved with, a preferred tone of voice, and some ideas.
Ideally, focus on problems, challenges, and obstacles your target customers face, show understanding as to how much worse things can get if left unsolved, offer solutions, and share the impact from existing customers.
The best performing content is often cited as being "authentic". That means it feels real, authoritative, and relatable. And that means it needs to be personal.
So, for B2B marketing social media content, put your people and their expertise at the heart of your content. Even better, put your customers and their experience at the heart of your content as that speaks volumes to your ability to give them what they needed and reassure others you can do what you promise.
This example from OCS on NHS FM Day delivered a very good engagement score as it was built around the people who attended the day. It used relevant hashtags, mentioned some influential people, and tagged partner organisations. 149 likes would have served this to tens of thousands of more people on LinkedIn alone.

5. Think Hygiene: Make sure it is well branded, consistent, and signposts next steps.
We like how much video Mitie generates and how they use it. Always well branded – right down to the overalls worn by their staff, Mitie videos get messages across quickly in an engaging style.
This example draws on a video probably used in a wide variety of ways, but here as a positioning piece to its 11,000+ LinkedIn audience. View the post here. Again, delivered natively within the platform rather than asking people to click to their YouTube channel.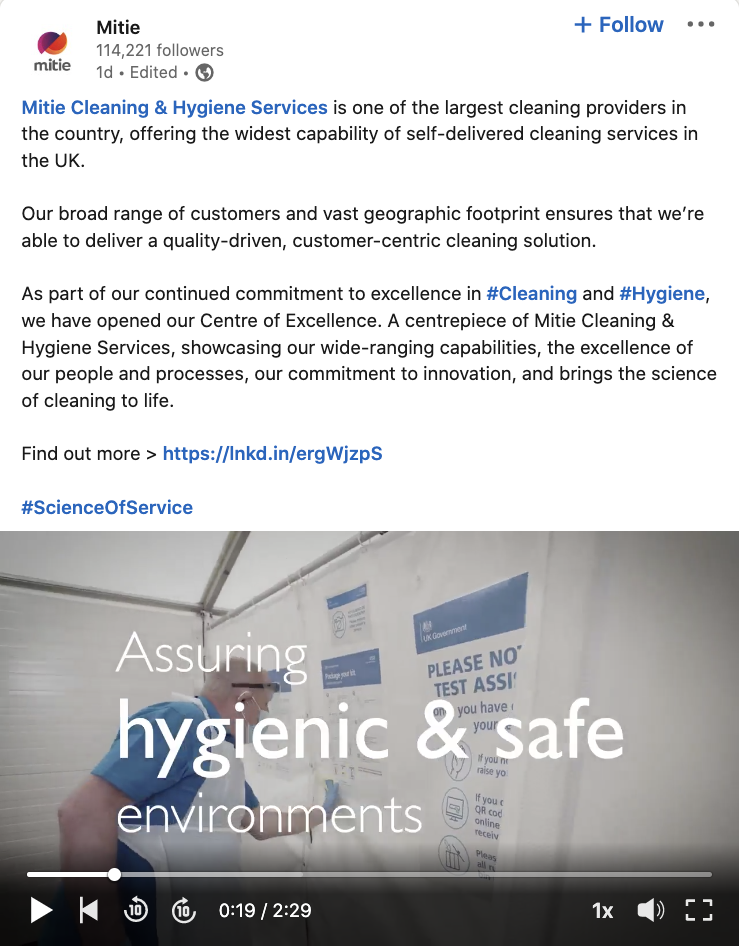 And Emcor does a great job of providing value to industry initiative whilst building their corporate social responsibility at the same time.
This post marking ten years of involvement with the Supply Chain Sustainability School is well written, well tagged, and a great example of using content natively inside the LinkedIn platform. View the post here.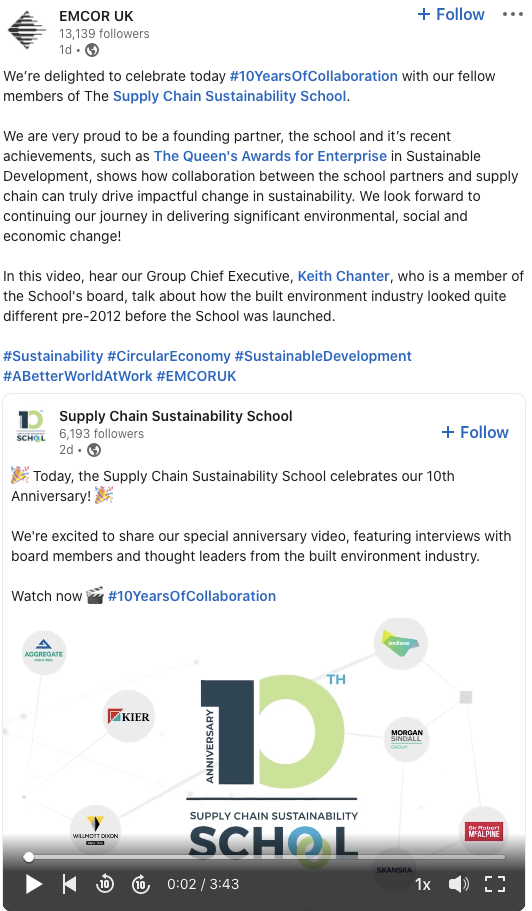 Summary
Best practice doesn't mean turning up every day and forcing it.
You can build consistency into your social media by having a healthy mix of created vs curated posts and making the most of the different functionality available. The key to success with social is getting involved in what is happening in the industry.
Make sure that alongside your content strategy, you have a comment and sharing strategy to build your profile to new audiences.
Want to talk social? Drop us a message on our contact form or via our LinkedIn page.
Recommended reading
Social media sharing is about the who, not the what: An advocate marketer's perspective
Velo's approach to social media and content