Is there a place for WhatsApp for Business in B2B marketing?
Marketing communication becomes more fragmented every year, with more tools and technologies emerging that are taking community and communications into private channels. The pandemic forced even the most security conscious B2B operations to recognise they needed to open up to using third party software to streamline their operations, and improve the customer experience.
B2B companies typically focus on big ticket solutions like Salesforce and HubSpot – however, recently, many useful technologies have been innovating. 
WhatsApp exploded into the communications toolkit to become one of the most-used social media platforms. The ease with which people can create groups and host real-time chats has changed the way people communicate, allowing pop up communities to be quickly and easily managed within a "free" mobile app. 
WhatsApp's capabilities don't end there – did you know that WhatsApp can also provide a lot of value to businesses? In fact, WhatsApp for Business has grown its credibility in driving frictionless e-commerce conversion – even for B2B marketing.
Why WhatsApp?
As of 2021, WhatsApp has over 2 billion users. There are over 100 billion messages exchanged on WhatsApp daily, whilst 22% of users are on iOS and 73% are on Android.
WhatsApp is used globally, and is well embedded in mainstream culture due to its easy set-up and accessibility.
Why use WhatsApp for Business?
WhatsApp for Business allows businesses to efficiently and effectively grow revenue. It provides a suite of simple-to-deploy features that help customers wanting to trade online to reduce pressure on customer care, and get people into purchase faster. Check out the following perks:
WhatsApp helps to build customer trust and loyalty with a familiar technology.

It allows users to personalise a customer experience. 

It allows businesses to collect feedback in a straight-forward way. 

WhatsApp operates where your customers are. This is key for the B2B world because as a business, it's important to find where your audiences sit, and adjust your platforms correspondingly.

It allows businesses to provide high-quality service for cheaper than ever before. Rather than investing in expensive customer support software, WhatsApp is more cost effective and is also a platform customers are familiar with.

Being owned by Facebook, Facebook (and Instagram) ads can re-direct to WhatsApp, so your customer has a concise journey.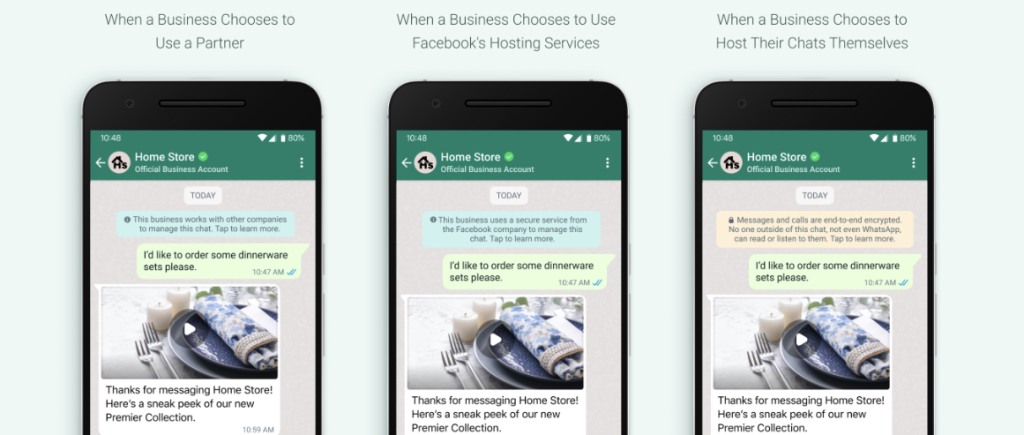 WhatsApp's potential for the B2B Marketer
Businesses can use WhatsApp to send notifications to customers. This spans almost every industry, with alerts such as payment confirmations, flight changes, reminders, and much more. Receiving notifications via WhatsApp is more streamlined than traditional methods such as emailing. With WhatsApp, notifications are instant. There's no need to log-in, so businesses can reach their customers immediately. 
WhatsApp for business also adds an engagement and entertainment factor. Businesses can send special offers and engagements to their customers, such as promotional messages with discounts. Businesses can also utilise interlinked apps, such as Instagram, to redirect users to the WhatsApp platform. 
For businesses looking to leverage their customer experience, WhatsApp's pertinence cannot be ignored. As specified earlier, information is instant, and doesn't require any external downloads or effort. With the addition of its automated messaging capabilities, responses span the clock and are not time constrained. Speed of response is critical in the B2B world, which often suffers loss of its leads due to inactivity. With WhatsApp for business, B2B sellers can reduce their lead time and increase their chances of securing new business.
Third party integrations that improve WhatsApp for Business even more…
Msgboxx is a shared team inbox with a browser-based cloud software, and an app in the mobile store. Msgboxx enables collaboration, and a shared inbox, encryption and compliance and full integration, allowing for businesses to drop conversations into your CRM and enable customers to start a call from their website, social media or QR codes.
Msgboxx allows customers to automate and continue conversations in WhatsApp, speeding up the sales process. 
Msgboxx's software is powerful for outbound marketing. It allows businesses to reach out to their customers via WhatsApp, and bulk broadcast messages.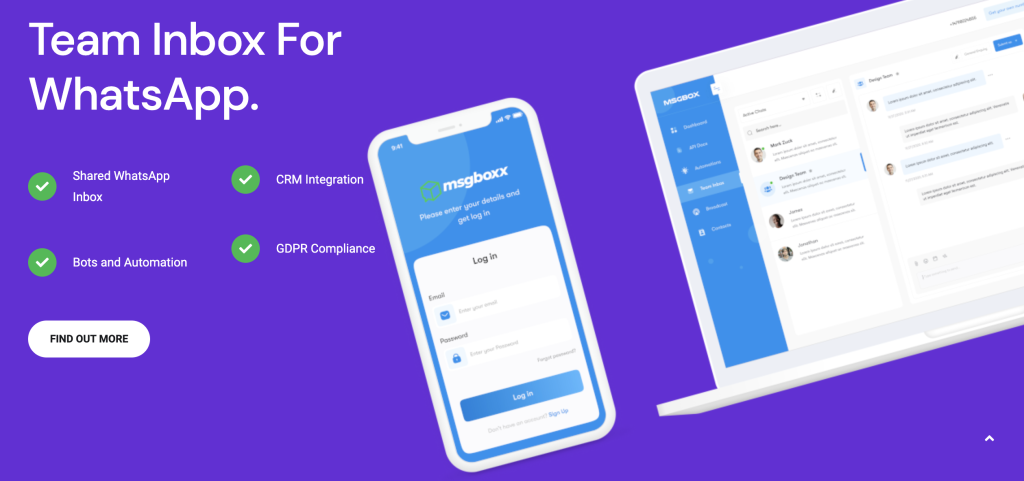 MsgBoxx works alongside a company called Gupshup. Gupshup is the world's leading conversational messaging platform for commerce, marketing and support, delivering 9bn messages a month. Its integration works seamlessly to support MsgBoxx inside WhatsApp.
Gupshup involves an AI-powered Bot Platform where users can build intelligent, interactive chatbots and deploy them on any messaging channel, particularly WhatsApp.
It also allows for Vertical Conversational Experiences (through BFSI, Fintech, D2C, Retail, EdTech, and more) and horizontal Conversational Experiences to make your Marketing, Commerce, and Support workflows conversational. You can read more about MsgBoxx and Gupshup here. 

Need to improve your customer communications channels? It's the perfect time to invest in creating better, more immediate customer-focused communications. 
Get in touch to start a conversation. 
Recommended reading
What are the best resources to help B2B marketers keep up with the latest developments in the technology sector?
What are the top marketing challenges facing technology businesses and how to fix them?
Why successful B2B technology companies are investing in customer success stories – and how you can too