A very Velo summer in review
The leaves are losing their green, pumpkin spiced lattes are back on the menu, and the sunset time is creeping up gradually each day. There's no denying it: autumn is here.  
As we prepare for the excitement of Q4 and the frenzy of the holiday season, we'd like to bring you back on a trip down memory lane, to warmer days, longer nights and a summer jam-packed with excitement for Velo… 
A growing team – not just in numbers, but in qualifications and progression too!
At Velo, we pride ourselves on being an agency that champions people. We're eternally proud to have built out such an exceptional team across the marketing sphere. This summer, we celebrated as we saw hard work recognised through promotions, team members achieving new qualifications, and new additions entering the mix.  
Promotions
Initially starting her career at Velo as a Junior Project Manager in January 2019, Libby Reynolds-Horne now heads a team of 6 account managers and executives, following her promotion to Account Director back in June. Libby is renowned for constantly going above and beyond for her clients – and this hasn't gone unnoticed. In fact, this is Libby's THIRD promotion during her tenure here; and so far, in true Libby style, she's excelling in her role. We can't wait to see what's next (world domination, etc…).  
It was also a summer of wins for Libby's wider team, as David Carey, former Project Coordinator, shone so brightly during his probation period that not only did he pass probation in August – he was subsequently promoted to Senior Account Executive! 
New qualifications 
Our very own mitochondria, Lou Mantle, is better known as the powerhouse behind Velo's digital marketing. Lou left school at 17, starting her B2B marketing career a little earlier than most. She now heads up some of our most high-profile clients and puts her absolute all into planning effective digital marketing campaigns. In July this year, Lou officially attained her Level 6 diploma from the prestigious Chartered Institution of Marketing – you may now call her Louise Mantle ACIM!  
…And new additions 
Over the course of the summer, we welcomed six new additions to the Velo family. Building out the client services team was the introduction of Jack Woolley, Sayli Javhad, and Jess Storey. Jack brings more than five years of B2B experience into his role as an Account Manager, whilst Sayli (who initially started her career as a designer in Mumbai!) brings the perfect mix of creativity and organisation to her role as a Project Coordinator. Jess, as one of our Senior Account Executives, yields a passion for ABM and client interaction. Despite starting her role remotely from South Africa, Jess is looking to relocate soon. Watch out London! 
The latest addition to the studio team was Aman Paul, who recently graduated from Loughborough University in Industrial Design and Technology. Aman is the newest member of the design team to also hail from Loughborough University – there must be something creative in the air…
In July, the small (but mighty) content marketing team doubled in size…to two! Alexandra Haider joined as a Content Marketing Executive, bringing with her B2B technology experience alongside a passion for writing and content strategy. 
 And, last but not least, this summer, we brought something back (and no, it's not heelys, crocs, or Pokémon Go…).   
The Intern Programme  
In July, we welcomed Max De Monclin onto our resurrected intern programme. Hailing originally from France and currently studying at Lancaster University, Max is mixing the best of both worlds through his Business Management and French degree. Throughout the summer, Max gained experience across various departments, including Operations, Client Services, and Digital. Of the experience, Max said:  
"I just wanted to thank every single one of you as you have all made my experience extremely pleasant and unforgettable. I hope to see you all again one day"
Don't speak too soon, Max… 
Ain't no party like a Velo summer party!
It wouldn't be a Velo summer without a party!  
On 5th August, the team got together for a night of quizzes, Pimm's, and panoramic views of the river from The Oyster Shed at London Bridge. We celebrated our many achievements from the year so far, and officially kicked off our Miles for Smiles initiative.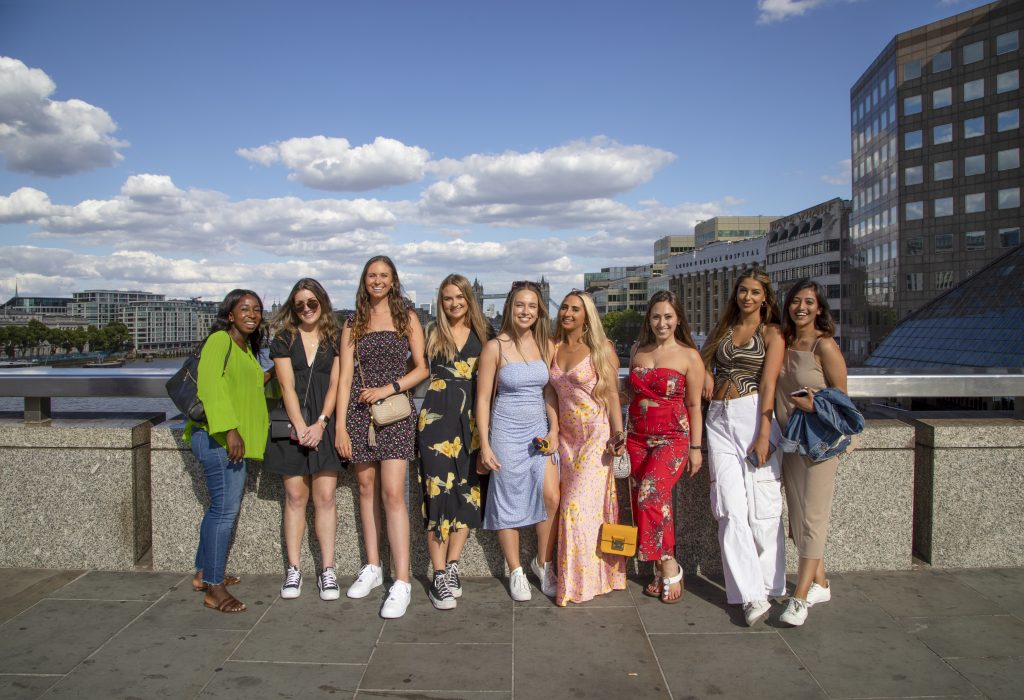 And the award goes to…
This summer, we have received a humbling number of nominations for some of the industry's most prestigious B2B marketing awards! Amongst those we have been shortlisted for are: 
Velo features on The Drum's Elite List 
The Drum is one of the world's leading publications covering modern marketing, agency business, creativity, and the future of media. Every year, it conducts a Digital Census, polling digital agencies and their staff and clients in order to ascertain the UK's leading agencies for digital services. In June, we were thrilled to be featured in this year's 'Elite List'. Velo was one of the only B2B marketing specialists to gain a place on this list, making this recognition even more special for our team.  
B2B Content Campaign of the Year for our work with Sage  
Our work with HR giant Sage has seen us crafting pretty much everything in the marketing mix, from white papers and success stories to videos and global campaigns. In 2021, we worked with Sage to produce an in-depth white paper discussing the future of HR in 2030. Following the vast changes that the pandemic enforced to the world of work, this paper couldn't have been more topical; HR has a more powerful platform than ever before, and as such, its future couldn't be more momentous.  
This project was nominated in the category of B2B Content Campaign of the Year at the UK Content Awards. Whilst we didn't win this time, we were still over the moon to have our work recognised – and Joanne (one of our incredible Account Managers) had a great evening celebrating that recognition with Sage at the awards event. Click here to see them celebrating! 
Best Integrated Marketing Campaign for our work with McGraw Hill 
We were proud to have our work with educational pioneer, McGraw Hill, recognised in the category of 'Best B2B Integrated Marketing Campaign' at this year's GDEA awards for our work on the global launch of the 21st edition of Harrison's Principles of Internal Medicine. The campaign spanned print, digital, and video comms – all tied together with a campaign strap-line and messaging that we're extremely proud of – 'The voice of clinical reason'. 
B2B Agency of the Year 
Last but absolutely not least, we attained finalist position at the UK Agency Awards, in a shortlisting that recognised our company culture. Specifically, we celebrated our health and charity initiatives: 'Live Well at Velo' and 'Miles for Smiles'.  You can read more about our Miles for Smiles initiative here.  
And a personal award mention…
In August, we were thrilled to announce internally that Simon Watson, Studio Manager, had won the Velo award for Star Employee. Every six months, we conduct a staff survey to monitor attainment, staff sentiment, and take note of any stand-out team members. Funnily enough, Simon had only been with us for under six months at this point; so you can tell his impact was felt! Feedback focused on Simon's attentive and calm manner and management style.  The studio team also reported feeling more elevated since Simon joined, and they have particularly enjoyed his re-introduction of the 'Studio Breakfast' creativity sessions. Go Simon!
It's been a summer of excitement, marked with new client wins, new ventures, new team additions, and even new awards. We can't wait to see what the rest of the year brings – stay with us, because it's sure to be a hell of a ride!